Posts for tag: tooth decay
By Sweetwater Dental Wellness
April 30, 2020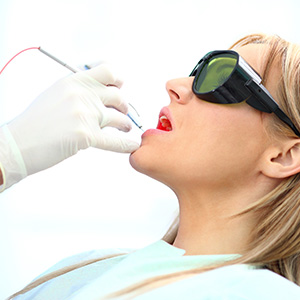 Advanced tooth decay is a serious dental problem that can threaten an affected tooth's survival. But for decades now dentists have reliably used root canal treatment to better a decayed tooth's odds. This routine procedure performed with dental drill and special hand tools removes infected tissue inside a tooth and replaces the voids with a filling to prevent future infection.
But now there's a new way to perform a root canal—with a surgical laser. Lasers, amplified and focused light beams, aren't new to healthcare—they're an integral feature of many routine medical treatments and surgeries. But their use is relatively new to dentistry, and to endodontics (treating the interior of teeth) in particular.
Lasers can be used in root canal treatment to perform a number of tasks. They can remove diseased tissue and other debris from the innermost tooth pulp. They can be used to clean and shape root canal walls in preparation for filling. And they can also be used to soften and mold the filling material to fit more precisely within a tooth's particular root canal network.
Although laser-assisted root canal therapy isn't yet widespread, laser's limited use to date has given us a fair picture of both their advantages and disadvantages. As with other medical laser applications, lasers are very precise in removing diseased tissue without too much disruption of healthy tissue. There's less need for anesthesia than with dental drills, and lasers are a lot less noisy and jarring. Patients by and large experience less bleeding, as well as less discomfort or infection afterward.
But because laser light can only travel in a straight line, they're difficult to use in many tightly curved root canals. In these cases, the traditional methods are better suited, although a laser can be used in conjunction with other tasks. Temperature with lasers must also be carefully managed lest the high heat that's often generated damages natural tissues.
Although lasers won't be replacing traditional treatment methods for decayed teeth in the foreseeable future, there's hope they'll become more commonplace as technology and techniques continue to advance. Lasers can only improve what already is an effective means of saving teeth.
If you would like more information on treatments for advanced tooth decay, please contact us or schedule an appointment for a consultation. You can also learn more about this topic by reading the Dear Doctor magazine article "Laser-Assisted Root Canal Treatment."
By Sweetwater Dental Wellness
August 14, 2019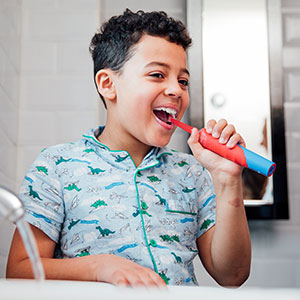 True or false: there's no cause for concern about tooth decay until your child's permanent teeth erupt.
False—decayed primary teeth can lead to potentially serious consequences later in life.
Although "baby" teeth last only a few years, they're essential to future dental health because they act as placeholders and guides for the incoming permanent teeth. If they're lost prematurely due to decay, other teeth may drift into the empty space intended for the emerging permanent tooth. Because of this, inadequate space will crowd the out of proper alignment.
And because they have thinner enamel than permanent teeth, primary teeth are more susceptible to decay. Once decay sets in, it can spread rapidly in a matter of months.
Fortunately, we may be able to prevent this from happening to your child's primary teeth with a few simple guidelines. It all begins with understanding the underlying causes of tooth decay.
Tooth decay begins with bacteria: As a result of their digestion, these microorganisms secrete acid that at high levels can erode tooth enamel. The higher the population of bacteria in the mouth, the higher the acidity and potential threat to the teeth.
The first objective then in preventing decay is to remove dental plaque, the thin film of bacteria and food particles on tooth surfaces, through daily brushing and flossing. And because bacteria feed on sugar as a primary food source, you should reduce your child's sugar consumption by restricting it to only meal times and not sending your child to bed with a bottle filled with a sugary liquid (including formula or breast milk).
To help boost your child's protection, we can also apply sealants and fluoride to teeth to help protect and strengthen their enamel from acid attack. Because we'll also monitor for signs of decay, it's important to begin regular dental visits beginning around age one. If we do detect decay, we can then treat it and make every effort to preserve your child's primary teeth until they've completed their normal life cycle.
By taking these steps, we can help make sure your child's early teeth go the distance. Their current and future dental health will certainly benefit.
If you would like more information on prevention and treatment of tooth decay, please contact us or schedule an appointment for a consultation. You can also learn more about this topic by reading the Dear Doctor magazine article "Do Babies Get Tooth Decay?"
By Sweetwater Dental Wellness
February 17, 2018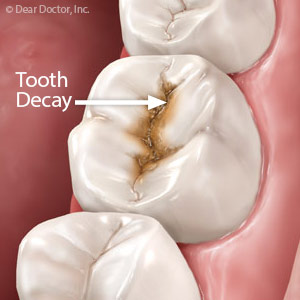 Families of children with chronic conditions face many challenges. One that often takes a back seat to other pressing needs is the prevention of tooth decay. But although difficult, it still deserves caregivers' attention because of the dental disease's potential long-term impact on oral health.
Chronically ill children are often at higher risk for tooth decay, most commonly due to challenges in practicing effective oral hygiene. Some conditions create severe physical, mental or behavioral impairments in children's ability to brush and floss: for example, they may have a heightened gag reflex to toothpaste in their mouth or they may not be able to physically perform these tasks on their own.
Some children may be taking medications that inhibit salivary flow as a side effect. Saliva is critical for disease prevention because it both neutralizes mouth acid (which can erode tooth enamel) and is a first line of defense against disease-causing bacteria. And a child's diet, while designed to support treatment of their chronic condition, may conversely not be the best for supporting their dental health.
It's best if caregivers and their dentists develop a strategy for decay prevention, which should include the following:
Regular dental visits beginning at Age One. Besides monitoring dental health, dental visits also provide cleanings and other preventive measures like topical fluoride or sealants;
Brushing and flossing support. Depending on a child's physical and mental capacities, caregivers (or an older sibling) may need to model brushing and flossing, or perform the tasks for the child;
Medication and diet changes. If medications are causing dry mouth, caregivers can speak to their physicians about possible alternatives; likewise, they should see if modifications can be made to their diet to better support dental health.
Boosting salivary flow. It's especially important with children who have dry mouth to drink more water or use aids (like xylitol gum or candies) to boost salivary flow.
Although it requires extra effort and time to give attention to a chronically ill child's dental health, it's well worth it. By working to prevent tooth decay early in life, these children will be more likely to enjoy good dental health in the future.
If you would like more information on dental care for children with special needs, please contact us or schedule an appointment for a consultation. You can also learn more about this topic by reading the Dear Doctor article "Managing Tooth Decay in Children with Chronic Diseases."